Ripple
An app that rethinks how content spreads. Built in my spare time alongside two engineers.
The team
Design Michelle Guarino
Engineering Paul Stravropoulos & Gal Oshri
I joined the team when they were testing out a concept and had a rough prototype.
THE CONCEPT:
A user writes a ripple
The ripple is sent to the seven people closest to them.
Each of those seven people decide if they want to spread it to more people or dismiss it.
The more popular a user ripple becomes the further the user can spread content through a level system.
I helped them relook at the information architecture - the user flow was simple, but their interaction paradigms were confusing and disjointed.
Their issues
Incorrect paradigms of swiping left and right
Inconsistent actions
Visual design + cleanliness
Branding
Immediately I centered in on making their interaction paradigms a little simpler.
OUR Goals
Easy to spread and dismiss content
Easy to write content.
Easy to browse
From my explorations we moved towards a list view. It made our experience unique and didn't force users to decide immediately.
The overlapping iconography when swiping was a pivotal moment for the team and our brand.
It made us stand out.
The brand
I decided to avoid working on the branding until I understood where we were moving with our interaction design. That way they could play off of one another.
Playful + Vast
I worked with Gal and Paul to understand their vision of the brand.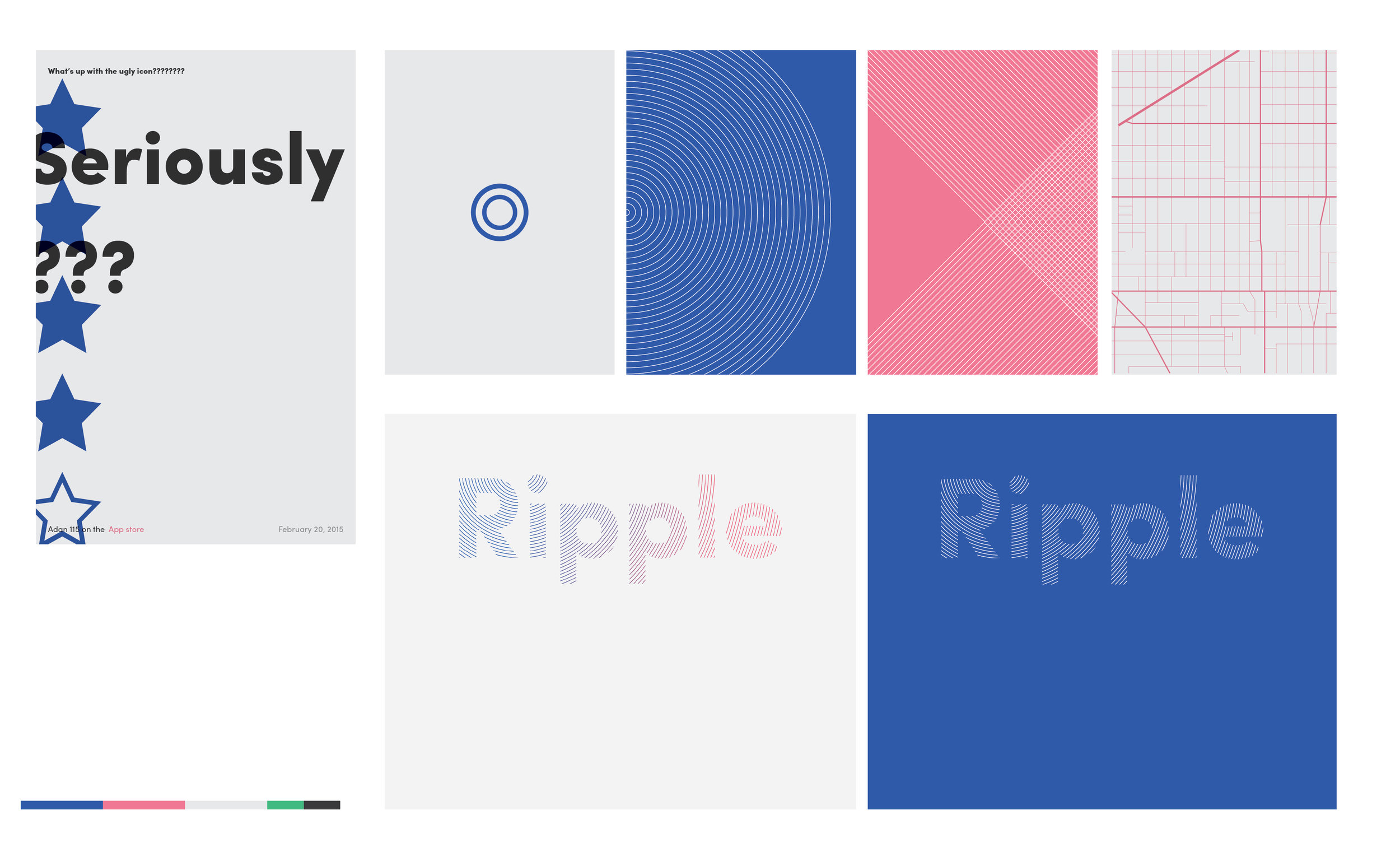 I wanted the brand and user experience to be interconnected and reflect each other. So I jumped off of the overlapping motion we built.
Eventually working on Ripple came to an end due lack of funding, but it was awesome to work on it alongside some excellent engineers.
MY MAIN TAKEAWAYS
I really enjoyed the interaction leading the brand. It's opposite to how I've worked on brands in the past and it was a fresh to look at it.
It was great to work on a team that really cared about the product.
I felt like I was building something from the ground up.
We had a direct line to our users, so we could call on them, make quick changes and see how they impacted them.